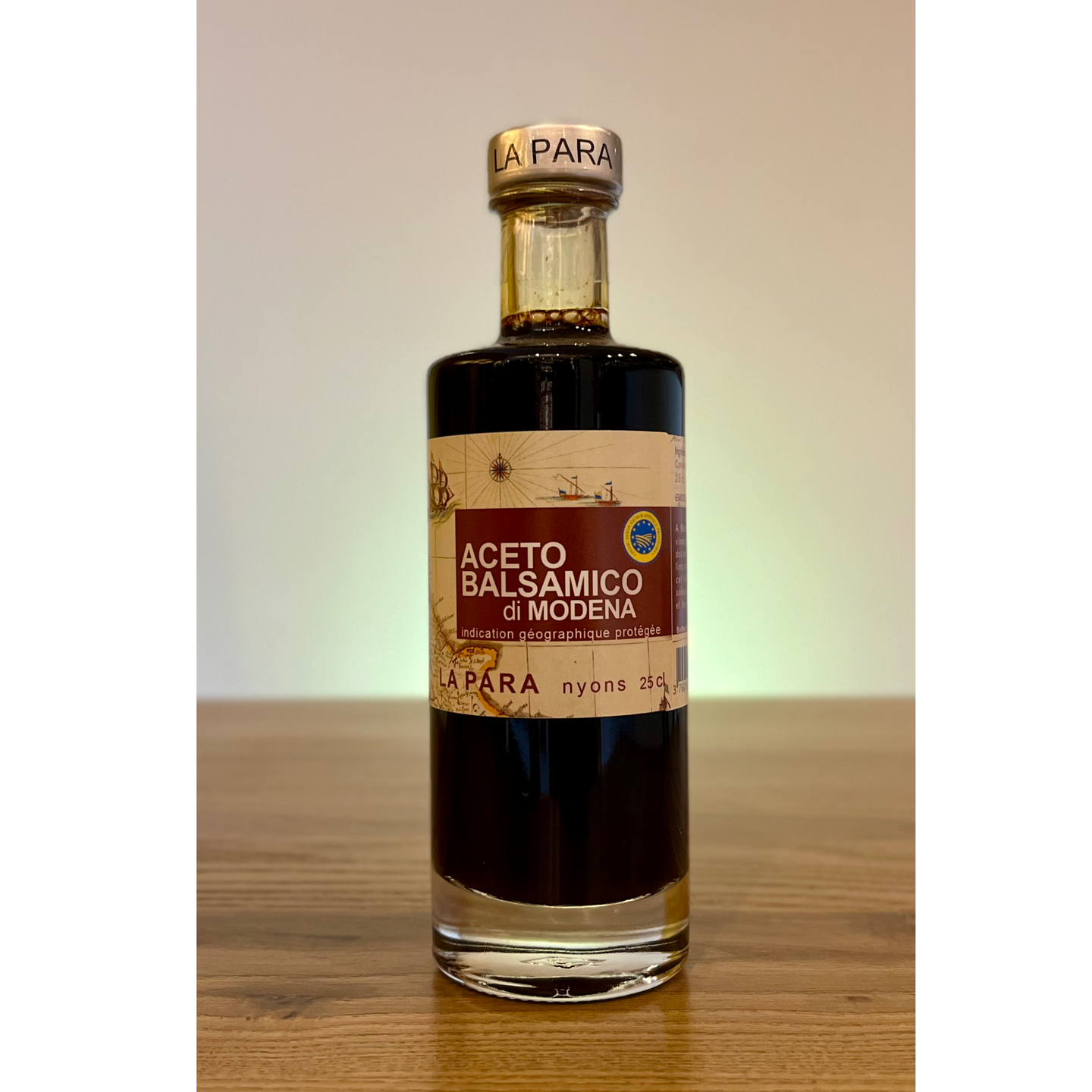 Regular price

Sale price

€12,80 EUR

Unit price

per
Balsamic vinegar "Aceto Balsamico di Modena" 25 cl
With a focus on premium quality, our French shop proudly presents a handpicked Italian product, ensuring a delightful experience for every customer. WAW!
Balsamic Vinegar di Modena, imported by a skilled artisan from the charming town of Nyons in Provence, is a rich and velvety elixir that brings a touch of Italy to your kitchen. Made from a carefully crafted blend of grapes and aged to perfection, this vinegar boasts a complex flavor profile that ranges from sweet to tangy, with a hint of nuttiness and a subtle hint of fruitiness.

This artisanal vinegar is incredibly versatile, making it the perfect addition to any dish. Pair it with the rich and tender flavor of veal liver for a truly decadent experience, add it to a creamy risotto for a burst of flavor, or drizzle it over a scoop of vanilla ice cream for a touch of sweetness. It is also an essential ingredient in a classic vinaigrette, elevating the flavors of a simple salad to new heights.
But its versatility doesn't end at the dinner table. Balsamic vinegar di Modena is also well-known for its numerous health benefits, including aiding digestion and reducing inflammation. This artisanal vinegar is not just a condiment, but a true treasure that adds an extra dimension of flavor and nutrition to your meals.
So, if you're looking for a balsamic vinegar that embodies the spirit of Italian tradition and the expertise of a Provencal artisan, look no further than Balsamic Vinegar di Modena. Let its rich, complex flavor take your taste buds on a journey to the rolling hills of Modena, and experience the art of balsamic vinegar like never before. Whether you're using it to dress a salad, drizzle it over roasted vegetables, or pair it with your favorite dish, this balsamic vinegar is the perfect complement to any meal.
Ingredients : Concentrated grape must, wine vinegar, colorant: caramel E150d